Critical Mass è un evento internazionale che si tiene in più di 500 città del mondo, avviene ogni ultimo venerdì del mese, quando i ciclisti, spontaneamente, vanno in massa a percorrere le strade delle loro città normalmente occupate dalle automobili. Critical Mass si concentra sul diritto di utilizzare le strade in modo altro che non semplici luoghi dove far circolare ed ammassare le automobili. Punta anche l'attenzione sul deteriorarsi della qualità della vita, a partire dai livelli di inquinamento dell'aria e dell'inquinamento acustico, che i mezzi a motore creano nelle città. Critical Mass avviene in molte città del mondo ed è sempre diversa, stante le differenze del numero dei partecipanti da una città all'altra, le leggi sul traffico e la risposta della polizia e degli automobilisti. Critical Mass è un'idea, un evento, un'attitudine… non ha leader, non ha un'organizzazione… semplicemente Critical Mass è fatta da chi partecipa alla pedalata, non c'è un volantino da dare, ma ognuno/a cerca di produrre il proprio da distribuire lungo il percorso, improvvisato e mai prestabilito, della CM. Per notizie sulle Critical Mass di tutto il mondo consulta World Wide Critical Mass Hub che prova ad essere la risorsa più aggiornata riguardo al movimento, ed anche How to Start a Critical  Mass Ride per chi vuole capire come iniziare nella propria città.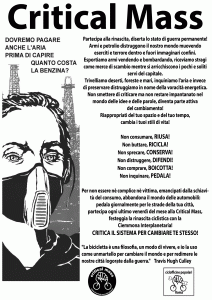 A Roma: Critical Mass Romana – ogni ultimo venerdì del mese a p.zza Vittorio alle ore 18:30
A Milano: Critical Mass Milano – ogni giovedì sera, da Piazza dei Mercanti, alle ore 21:30.
A Bologna: Critical Mass Bologna – ogni ultimo venerdì del mese in piazza Galvani alle 18
In Italia: Critical Mass Planet
---
Critical Mass is an international event which takes place in more than 500 cities around the world, each last Friday of each month, when cyclists, spontaneously and en masse, go riding through the streets of their city, usually busy with cars. Critical Mass concentrates on the right to use streets in an alternative way, not only as simple car storage and movement places. It also focuses on the deterioration of quality of life, starting from air and acoustic pollution levels which are created by engines. Critical Mass takes place in many world cities and it's always different, because of variation in size, traffic laws and police and motorists response from city to city. Critical Mass is an idea, an event, an attitude…. there's no leader and no organization… it's simply made of the people joining the ride, there's no official flyer, but everyone tries to make their own to distribute all along the always improvised and never pre-established course of the CM. For news and info about Critical Masses around the world visit World Wide Critical Mass Hub, which tries to be the most up-to-date source about the movement, and even How to Start a Critical Mass Ride for those who want to start a CM in their city.
In Rome: Critical Mass Roma – each last Friday of each month starting from Piazzale Vittorio @ 18.30
in Milan: every Thursday night starting from Piazza dei Mercanti @ 9:30 pm
in Bologna: last friday of every month, starting from piazza Galvani @ 6.30 pm
In Italy: Critical Mass Planet