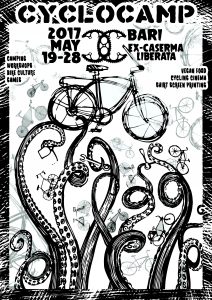 Insieme alla Ciemmona, sbarca a Bari anche il Cyclocamp!
…E cos'è?!
Fatti un'idea qui.
Un villaggio temporaneo dedicato al Do It Yourself globale totale, con attenzione particolare alla costruzione di freakbikes. Durante la settimana di cyclocamp i partecipanti potranno proporre laboratori di condivisione di tecniche e conoscenze che spaziano dal taglio e cucito alla serigrafia, alla cucina, alla saldatura, a quello che vi pare! Appuntamento dal 19 maggio in Ex Caserma Liberata, scrivete a ciemmona17ba@autistici.org per partecipare e proporre laboratori per un programma che andrà via via ampliandosi grazie al contributo dei partecipanti, sarà inoltre un'ottima occasione per concludere gli allestimenti per l'accoglienza della Ciemmona!
Vi aspettiamo in tanti:)
________________________________________________________________
Along with Ciemmona lands in Bari the Cyclocamp 2017!
….And what it is?
You can have an idea here.
A temporary village dedicated to the Do It Yourself all over, with particular focus on freakbikes building. During the cyclocamp week the participants will propose workshop for condivision of skills and knowledge from sewing to serigraphy, to the kitchen, to the welding, to whatever you would like to share! See you in Ex Caserma Liberata starting from 19 may, write to ciemmona17ba@autistici.org for participating and workshop proposals for a program in constant growing due to participants proposals, it will be also a great occasion to close accomodation works for the Ciemmona 2017!